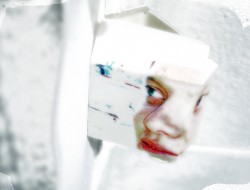 Alexandra Lakin, "White Out Series: Liz," 2005
CONTACT:
Heather King, 515-271-1994, heather.king@drake.edu;
Katie Knorovsky, 515-271-1834, katie.knorovsky@drake.edu
Drake University's Anderson Gallery will host "Text and Subtext: Works by New Faculty," showcasing works by Alexandra Lakin, visiting assistant professor of drawing, and Sarah McCoy, visiting assistant professor of graphic design.
The exhibition will open Friday, Jan. 19, with a reception hosted by Friends of Drake Arts from 5 to 7 p.m. in the Anderson Gallery in the Harmon Fine Arts Center, 25th Street and Carpenter Avenue. Lakin and McCoy will give a public lecture at 4 p.m. Thursday, Jan. 25, in the gallery. The exhibition continues through Friday, Feb. 16.
Lakin's pieces explore the relationship between handmade and digitally produced art, employing elements of drama, architecture and environment. Her assortment of works includes a 15-piece digital print installation called "White Out" that combines photography and drawing, and a wall collage of drawings called "Nostalgia for the Surface of the Earth."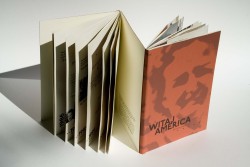 Sarah McCoy, "Witaj Polska! Witaj America! (Hello Poland! Hello America!)," 2006
McCoy's designs feature a "designer as reporter" approach and incorporate collages of text and images that offer graphic commentary on current events. In addition, the exhibition will include her artist book, titled "Witaj Polska! Witaj America! (Hello Poland! Hello America!)," which has been acquired by several university libraries such as Olin Library at Wesleyan University and University of California-Irvine Library.
Gallery hours are noon to 4 p.m. Tuesday through Sunday. Admission is free. For more information, call 515-271-1994 or visit www.drake.edu/andersongallery.
The Anderson Gallery, a nonprofit exhibition space at Drake University in Des Moines, was founded in 1996 to exhibit and support innovation in art and design. The gallery aims to enrich the cultural life of the University and area communities through diverse and challenging exhibitions, educational programs and publications.