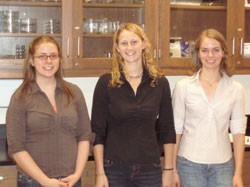 Drake students working on the project include (from left) Natalie Greco, Andrea Schwager and Michelle Reinke.
CONTACT: Amy Wisniewski, 515-271-2957, amy.wisniewski@drake.edu;
Lisa Lacher, 515-271-3119, lisa.lacher@drake.edu
The Drake University Science Colloquium Series will present a program on "The Use of Science and Technology for Reducing Methamphetamine Use in Teens and Young Adults" at noon Friday, Nov. 17, in room 101 of Olin Hall, 27th Street and Forest Avenue. The presentation is free and open to the public.
The presenters will be Amy Wisniewski, assistant professor of biology, and five of her students – Sarah Cooper, Natalie Greco, Kayla Hatt, Michelle Reinke and Andrea Schwager.
They aim to teach the science of addiction to high school students through the use of cutting-edge technology, such as virtual reality and 3D animations. The program emphasizes scientific fact in an attempt to deter teens from using addictive drugs, while avoiding methods of previous drug campaigns that often were ineffective and counterproductive.
"Our goal is to create something that will capture young people's attention and at the same time offer a scientifically accurate portrayal of biological mechanisms," Wisniewski said. "Previous attempts have been made to educate using animations, but these have typically been two-dimensional. Currently, many fields of science are using 3D molecular modeling and visualizations because they offer the most accurate depiction of the physiological effects of drug abuse to a younger population."
The students are developing an online resource that can be accessed privately at any time. The first installment of the program concentrates on how methamphetamine functions in the brain.