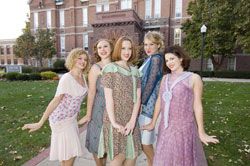 CONTACT: Lisa Lacher, 515-271-3119, lisa.lacher@drake.edu
In a select school by the French Riviera, five perfect young ladies enthusiastically await the annual Carnival Ball. Their personalities sparkle, their costumes dazzle, their manners are beyond compare. What more could they wish for?
Enter the dilemma of "The Boyfriend," a rapturous, adventurous musical opening at Drake University on Thursday, Nov. 16. Performances start at 8 p.m. Nov. 16, 17 and 18 and at 2 p.m. Sunday, Nov. 19, in the Performing Arts Hall of Harmon Fine Arts Center, 25th Street and Carpenter Avenue.
With music, lyrics and book written by Sandy Wilson, "The Boyfriend" relives the golden era of the 1920s through the eyes of Polly, Maisie, Faye and friends. While living their idyllic lives, the girls still scheme, dream and scream about having that perfect someone.
"It's a delightful and youthful musical," says director Tony Humrichouser, assistant professor of theatre arts. "It's one of those musicals that will leave you tapping your toes and whistling."
Tickets are $6 for adults, $4 for students and senior citizens and those with Drake I.D. Tickets may be purchased at the Harmon Fine Arts Center Box Office. For reservations or more information, call 515-271-3841.
Friends of Drake Arts will host a reception during intermission. In addition, the group will sponsor a pre-theater dinner and TalkAbout featuring Humrichouser at 6 p.m. Saturday, Nov. 18, in the Levitt Hall in Old Main, 2507 University Ave. Tickets for the dinner, TalkAbout and night's performance are $20. To reserve tickets for the TalkAbout, call 515-271-2500.