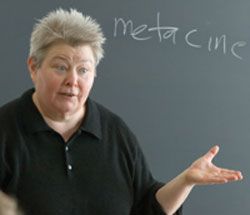 CONTACT: Lisa Lacher, 515-271-3119, lisa.lacher@drake.edu
Drake University concludes its fall Writers and Critics series Wednesday, Nov. 8, with a reading of Samuel Beckett's "Not I" by Michigan State University professor Judith Roof, with lecture and discussion to follow. The reading starts at 8 p.m. in room 101 of Olin Hall, 1344 27th St., and is free and open to the public.
"Not I," a two-person play that runs less than 20 minutes in length, is a hysterical and haunting commentary on identity, speech and memory. Craig Owens, Drake assistant professor of English, will co-star in the silent role of Auditor.
Roof is an actor, filmmaker, cultural critic and widely acclaimed theorist of sexuality, gender, theater and film. She has published several books, including, "All about Thelma and Eve: Sidekicks and Third Wheels," and "Come as You Are: Narrative and Sexuality." Her forthcoming book, "The Poetics of DNA," investigates the way cultural representations of human genetics frame scientific discoveries in misleading and, often frightening, ways. She is also a founding member of Steinsemble, an international performance troupe dedicated to producing experimental and avant-garde stage works.
The reading is sponsored by Steinsemble, the Drake University English Department and Drake's Center for the Humanities. For more information, contact Dina Smith at 515-271-3127 or dina.smith@drake.edu.