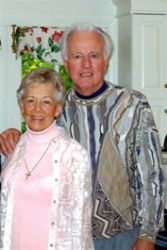 CONTACT: Lisa Lacher, 515-271-3119, javascript:DeCryptX('1m0i1t3d0.1m1b3f1i3h1s3C2f2t0a2m2g0.0e0d3x')
John R. "Jack" Ellis, a 1957 graduate of Drake University, and his wife, Audrey, have announced a $1.5 million gift to the University to fund an endowed faculty chair in the College of Pharmacy and Health Sciences.
The title of John R. Ellis Distinguished Chair will be bestowed upon a new faculty member. The position will carry a salary bonus and additional financial support for lecture costs, research and work-related travel expenses.
"I received a tremendous education at Drake and the faculty helped me form my professional work ethic," Jack Ellis said. "We wanted to make a gift to enhance the education of pharmacy students so they can make a difference in the profession. An endowed chair is a stable, lasting gift that will keep on giving."
Ellis, who resides in Lake Barrington, Ill., worked for Abbott Laboratories for 35 years. He held positions in research and operations, including plant manager.
"My Abbott career was germinated during my senior year on a tour of pharmaceutical manufacturing companies (Abbott and Lilly), whereupon I enquired about career opportunities," he recalled. "I had received a job offer previously in retail pharmacy and the offer from Abbott was for much less pay. But the long range opportunity sounded good. Thirty-five years later, I concluded I had made a wise choice."
Drake's pharmacy program boasted a student enrollment of 185 when Ellis graduated nearly 50 years ago — since then, the program has grown to more than 800 students. "The new endowed chair will benefit this generation of students and many more," said Raylene Rospond, dean of the College of Pharmacy and Health Sciences. "It will also help promote the college and support our commitment to recruiting and retaining the very best faculty."
The value of the gift from the Ellis family extends beyond Drake, as the position will help to satisfy a national need for pharmacy professors. A survey by the American Association of Colleges of Pharmacy showed that 76 colleges and schools of pharmacy reported a total of 406 vacant and/or lost positions in 2004-05, up from 367 in 2003-04.
This is not the first time the Ellises have contributed to the University. They also make an annual donation at the President's Circle level and have established a charitable remainder trust that will one day benefit Drake.