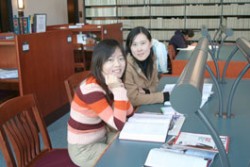 Shangfeng "Angel" Lu and Xiao Yuan "Yolanda" Zhang take a break from studying at Opperman Hall and Law Library.
Two students chosen through a rigorous selection process at Southwestern University of Politics and Law in Chongqing, China, are enrolled in Drake University Law School this year as part of the Law School's efforts to develop exchange programs with Southwestern and enhance international initiatives already in place.
Xiao Yuan "Yolanda" Zhang and Shangfeng "Angel" Lu, both 21, are majoring in law as undergraduates in the Chinese educational system. They will complete their undergraduate degrees through their coursework at Drake Law School.
"The United States is the place where every [Chinese] student wants to be," Lu said. "Law students in China don't have much opportunity to study abroad, so we feel very fortunate to be here."
"I think Drake is the perfect place," Zhang said. "I really like the professors here. They are all friendly and approachable. When I first got here, my academic adviser [professor Cathy Lesser Mansfield] took a group of international students to the supermarket to help us do our shopping. Another professor records her lectures so we can listen to them later to make sure we understand everything she said. The students here are mature since law school is a graduate program. They study hard and encourage me to do my best."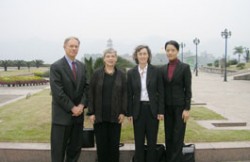 Ron Troyer, Susan Troyer, Maura Strassberg and Savannah Bao visit a Chinese High School in Chongqing to honor winners of an English Speech Contest sponsored by Drake.
Zhang said she especially enjoys her class on international human rights and has volunteered to help the Red Cross in Des Moines promote a new program focused on human rights.
Both students belong to the Drake chapter of the Asian Pacific American Law Students Association and Lu recently attended the national meeting of the association and the National Asian Pacific American Bar Association in Philadelphia.
"There was a lot of discussion about the war in Iraq and the issue of torture," Lu said. "I watched some moot court competitions and got to meet people from different law schools along with lawyers from around the country. It was a great experience."
Law School faculty also have visited China and participated in exchanges with Chinese universities.
Maura Strassberg, professor of law, traveled to China in the fall of 2005 with Provost Ron Troyer, his wife, Susan, and Savannah Bao, assistant director of the Chinese Cultural Exchange Program at Drake. They visited Southwestern University of Politics and Law in Chongqing and Yunnan University in Yunnan Province to discuss the possibilities for student and faculty exchanges involving both the undergraduate colleges and the law school.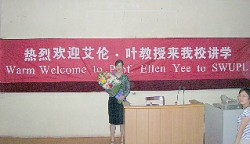 Ellen Yee delivered lectures while standing in front of a banner especially made to welcome her to Southwestern University.
Southwestern is one of the top law schools in China and is interested in developing opportunities for student and faculty exchanges in both directions. Southwestern has a particular interest in Drake's Agricultural Law Center, as its faculty are working with the state to develop the law relating to agriculture in ways that will allow the farming population, mostly poor peasants, to share in the economic development that is transforming Chinese cities.
While at Southwestern, Strassberg delivered a lecture to law students about American legal education, including the Socratic Method and our emphasis on the application of law, client representation, and problem-solving. She described some of the different opportunities for foreign law students to study American law, and explained the Bar Exam and licensing system for lawyers in the United States.
As a result of these meetings, Ellen Yee, assistant professor of law, visited Southwestern University for a week this past summer. She delivered three lectures: one on the Sixth Amendment Confrontation Clause, another on principles of criminal justice and a third on professional responsibility and legal ethics.
"I had the opportunity to interact extensively with the students and faculty," Yee said. "Through these discussions, I learned more about China's developing legal system. As universities grow rapidly across the country, the system of legal education in China faces many challenges. The opportunity to witness China as it is changing at lightning pace was immensely interesting and personally fulfilling for me.
"As a former exchange student myself," Yee added, "I am a strong advocate of the educational value of studying abroad. As a faculty member, I encourage students to be intellectually curious about the world they live in and to explore it through opportunities to study abroad."