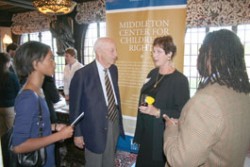 Joan and Lyle Middleton talk with guests at the Middleton Center's five-year anniversary celebration.
Drake University Law School's Joan and Lyle Middleton Center for Children's Rights launched in 2001, rooted in the basic premise that children deserve the right to achieve their full potential. Five years later, the center advocates this concept by providing a holistic approach to legal services for children and families in need of assistance.
Since the center opened, students and their faculty supervisors have represented hundreds of child clients in the courtroom, promoted child welfare legislation in the Iowa statehouse, provided training for working professionals in multiple disciplines on best practices and created a Web site (www.middleton.drake.edu) that makes research and information on juvenile justice issues available to the public.
This year, the Middleton Center teamed up with the Polk County Model Court and KidSake Foster/Adopt Iowa to present the sixth annual Adoption Saturday, held Nov. 18 at the Polk County Courthouse, as part of a nationwide effort to finalize adoptions of children from foster care during National Adoption Month.
Jerry Foxhoven, director of the Middleton Center, anticipates a future filled with growth. "The goal is to continue building upon what the Middleton Center has already accomplished in its first five years and make it a nationally recognized center," he said. "We are already positioned in such a way that we are being recognized as that authority in the state, and we are going to become a national leader."
The Middleton Center celebrated its five-year anniversary at an event Oct. 5 at Rollins Mansion in Des Moines, with some 100 community members, student attorneys, judges and friends of the University in attendance.
The Joan and Lyle Middleton Center for Children's Rights was established at the Drake Legal Clinic with a $1 million gift from Drake alumni Joan and Lyle Middleton.