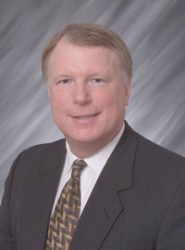 Keith Miller
While in Las Vegas last November for a Drake Law School alumni reception, something other than the Strip's legendary flashiness impressed Keith Miller, Drake's Ellis and Nelle Levitt distinguished professor of law.
Rather, a significant number of alumni who work in gaming law touted the abundance of career opportunities in the gaming industry. The range of work represented by the alumni struck Miller.
"There were alums in private practice who represented individual and corporate clients in gaming licensing matters. Some alumni worked in the intellectual property area for companies developing gaming software. An alumnus who regulates gaming and boxing issues in the Nevada Attorney General's Office was there. One alumnus had made use of his Drake law degree by becoming the chief operating officer of a major Las Vegas Strip hotel-casino. It was all really impressive," Miller said.
Partly as a result of the experience, Miller decided to offer a new class this spring on gaming law. "Part of what we do at Drake is anticipate and respond to growth areas of the law," Miller said. "Forty-eight states have some form of gaming. It's an expanding industry with many career opportunities for lawyers."
The class will cover many areas of gaming, including casino, Indian and pari-mutuel gaming. In addition, the course will explore the controversy over Internet gaming and the related World Trade Organization rulings on United States' law.
"It's a course on the legal regulation of gaming, not a class on how to gamble," Miller said. "Also, there are very real human costs to gambling that can't be ignored."
With more than 40 students already enrolled in the class at pre-registration time, the stakes are high but already seem destined for success.
Miller is currently writing a paper examining how the Iowa Lottery TouchPlay controversy unfolded in Iowa.