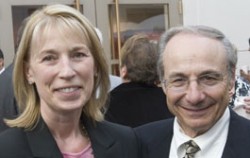 Marsha Ternus and Louis Lavorato chat at Lavorato's retirement celebration.
In addition to their degrees from Drake Law School, Marsha Ternus and Louis Lavorato share the same goals for Iowa's judicial system – equal access and administrative efficiency.
Ternus, LW'77, recently was elected chief justice of the Supreme Court of Iowa by her peers on the court, succeeding Lavorato, LW'62, a former trial lawyer and trial court judge.
Among the fruits of the court's recent push for progress have been the new Iowa Judicial Branch Building and the implementation of numerous recommendations of the Iowa Supreme Court Planning Commission on Planning for the 21st Century, appointed by the Court in 1995, and the Equality in the Courts Task Force, appointed by the court in 1992.
"If you're going to move the court forward, you've got to have the courage to foster change," said Lavorato. "People hate change, but that's how you get progress."
Lavorato said it was no surprise that Ternus' peers elected her to succeed him.
"I could see right away that she had a passion for administration," Lavorato said. "She's always coming up with new ways of doing things."
Both gladly share the credit for their achievements with Drake.
"I received a really good education while at Drake and unbelievable support as an alum," Ternus said. "The Law School prepared me not just academically, but also involved me in the local legal community."
"Drake is near and dear to my heart," Lavorato said. "The Law School was first on my list to thank at my retirement ceremony."
Lavorato was first in his class, assistant editor of the Drake Law Review, and was elected to The Order of Coif, a national honorary scholastic society for legal education for which students graduating in the top 10 percent of their class are eligible. He practiced with Williams, Hart, Lavorato and Kirtley in West Des Moines until his appointment to the bench of Iowa's Fifth Judicial District in 1979, where he served as chief judge from 1983 until his appointment to the Supreme Court in 1986. He was elected Chief Justice in 2000 and received an honorary Doctor of Laws degree from Drake in 2003.
Ternus earned her law degree with honors, was also elected to The Order of the Coif and served as editor-in-chief of the Drake Law Review. She practiced with Bradshaw, Fowler, Proctor and Fairgrave in Des Moines. Ternus served as president of the Polk County Bar Association, as a member of the Board of Governors of the Iowa State Bar Association, the Iowa Jury Instructions Committee and the Board of Directors of the Polk County Legal Aid Society. She was appointed to the Supreme Court in 1993.
Both Lavorato and Ternus have been active at Drake Law School, including serving on the Board of Counselors, participating in Drake's Supreme Court Day Moot Court Competition and introducing first-year law students to the Iowa Judicial Branch and the Judicial Branch Building during orientation. In addition, both previously have been honored by the Law School as Outstanding Alumni of the Year.
"We are extremely proud of both Chief Justice Lavorato, now retired, and Chief Justice Ternus," said Drake Law School Dean David Walker. "Both exemplify our mission at the Law School to 'prepare outstanding lawyers who will promote justice, serve as leaders in their communities and the legal profession, and respond to the call of public service.'"