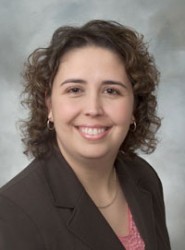 Amanda Knief
Amanda Knief, LW'06, recently received the top prize in the American Bar Association Commission on Domestic Violence 2006 Law Student Writing Contest for the submission of her paper titled, "Gender Bias in Asylum Law: Recognizing Persecution Against Women and Girls."
The writing competition was established to encourage and equip law school students to work on cases involving domestic violence. The competition is open to all students at ABA-accredited law schools who have written a paper that furthers the legal needs of victims of domestic violence or domestic violence victims and their children.
Knief's winning article was published in the Autumn 2006 issue of the Women Lawyers Journal. In addition, she has received $750 and a resolution from the ABA Commission on Domestic Violence. Knief, an Iowa native, is working as a judicial law clerk for the Fifth District Court in Des Moines. She wrote the paper for the International Human Rights seminar taught by professor Hunter Clark in fall 2005.
"I am especially proud of this paper because it combines two legal areas that are important to me: international human rights and women's rights. I hoped the competition would give me the opportunity to share my passion for advocating human rights with others. I am honored to have my paper chosen to contribute to the national discussion about the needs of victims of domestic violence," Knief said.
"Amanda is extremely dedicated to the prevention of domestic violence and an award from a national organization like the ABA recognizes her effort and talent. She was in competition against law students from top schools nationwide, and to have a Drake law student place at the top is quite an honor," said professor Andrea Charlow.
Knief studied journalism at Iowa State before attending Drake University Law School. She also served as an intern at the Iowa Coalition Against Domestic Violence in Des Moines.