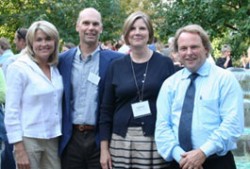 Neil Hamilton, right, joins Rebecca Kolls, host of "Rebecca's Garden," Charlie Nardozzi, senior horticulturist of the National Gardening Association, and Better Homes and Gardens Editor-in-Chief Gayle Butler at a conference reception at the Meredi
The Drake University Agricultural Law Center hosted a two-day conference in September called "Gardens for All: People, Plants and Policy."
This first national effort to examine the impact public policy has on gardening drew an enthusiastic audience of more than 100 attendees from 25 states and nations. Neil Hamilton, professor of law, organized the conference in cooperation with the National Gardening Association.
Hamilton believes the conference was an important first step in considering how public actions can help individuals and communities experience the benefits of gardening.
"We are extremely pleased so many people came from across the country and found the conference to be so valuable to their work. This response supports our belief that developing effective public policy to promote gardening is a worthwhile initiative for our institutions," Hamilton said.
In addition to Drake and the National Gardening Association, a dozen other state and national groups helped sponsor the conference.
Leaders from many organizations attended the event, including representatives from the American Community Gardening Association, the American Public Gardening Association, Seed Savers Exchange, America in Bloom, Les Dames d'Escofier, the Project for Public Spaces, Slow Food USA and the U.S Botanic Garden.
The task for Drake officials now is to decide the next steps in examining garden policy.
"Attendees had many ideas for what we should do next. The first goal is to assemble the information generated and share it with the public. Then we will decide how to organize our research to create the type of materials local officials need," Hamilton said.