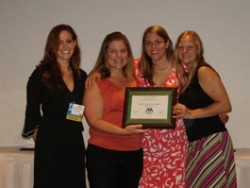 Vicki Goodman (left), chair of the ABA/LSD, presents the award to Brooke Timmer, Whitney LeGrand and Penny Nichols.
The Student Bar Association at Drake University recently won a national award from the American Bar Association/Law Student Division, placing second in the Best SBA Category of the ABA's annual awards.

All ABA-accredited schools were eligible for the national award; 25 schools applied. George Washington University placed first.

"It's a huge honor for us since only 2 schools were recognized," said Brooke Timmer, president of Drake's SBA in 2005-06.

Timmer said the group's members were especially enthusiastic and effective last year. She said one of their greatest accomplishments was to increase communication with Drake President David Maxwell and other members of the administration.

"Problems were taken care of more quickly, and I think students saw that," said Timmer, who graduated from Drake Law School in May.

The officers of Drake's SBA fill many roles in the representation of the law school's student body. SBA members also serve on committees organized for the purpose of making the law school a better place for the students, faculty, alumni and supporters.