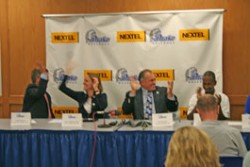 Officials from Drake and the Greater Des Moines Convention and Visitors Bureau show their elation as they hear the NCAA announcement.
The $15 million investment in the renovation of Drake Stadium by Drake University and the Greater Des Moines community has produced a quick dividend.

Drake University has been selected by the NCAA Track and Field Committee to host the 2008 NCAA Track and Field Outdoor Championships June 11-14, returning the event to Drake for the first time since 1970.

"We are absolutely delighted that Drake University has been awarded the 2008 NCAA National Track and Field Championships," Drake President David Maxwell said. "With the Drake Relays, the 2007 NCAA Midwest Regionals and now the National Championships, Drake and Des Moines have become the track and field capital of the Midwest. It is a tremendous infusion of energy, resources and visibility into the community. We are very, very grateful to everyone who helped make this happen."

When Drake hosted the 1970 championships, track and field immortal Steve Prefontaine, competing as a freshman for Oregon, won the first of four straight individual distance titles in dramatic fashion despite having a dozen stitches in his foot after a diving board accident days before. Drake senior Rick Wanamaker also won the NCAA decathlon title that year.

Approximately 1,100 athletes are expected to compete in the four-day event, which is estimated to have an economic impact of $25 million on the Greater Des Moines area.

Drake Assistant Athletic Director Mark Kostek will serve as the local tournament director for the NCAA Outdoor Track and Field Championships. Kostek was Drake Relays director from 2001-05 and has served as referee for the NCAA Indoor and Outdoor Track and Field Championships since 2001.

The 81-year-old Drake Stadium underwent a $15 million renovation that began in May 2005 and finished just hours before the first starter's pistol fired during the 97th running of the Drake Relays on April 26.

Drake was among six schools that were notified that they were finalists for hosting the 2008, 2009 and 2010 NCAA Track and Field Outdoor Championships.

Earlier, Drake was awarded the 2007 NCAA Midwest Regional Outdoor Track and Field Championships with President Maxwell making the announcement during the dedication ceremonies for the revitalized Drake Stadium at the Drake Relays on April 29. The NCAA Regional Championship is scheduled for May 25-26, 2007.

President Maxwell recently was honored as Sport Friend of Hospitality by the Greater Des Moines Visitors and Convention Bureau for his efforts to bring regional and national sporting events to Drake and Des Moines.