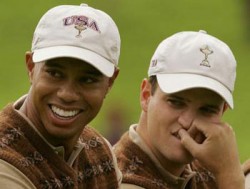 Tiger Woods and Zach Johnson at the Ryder Cup.
The day before Zach Johnson, BN '98, teed off at the 36th Ryder Cup in Straffan, Ireland on Friday, the PGA of America announced a $100,000 donation to Drake University on his behalf. The donation will help fund the program "Golf: For Business & Life."

Johnson, who played on Drake's golf team, competed in four out of the five possible matches at the Cup, playing a close game with Irish favorite, Darren Clarke, on Sunday. Though the rookie lost to Clarke, Johnson, 30, was the first Iowan to compete in the Cup and plans to play in the 2008 Ryder Cup at Valhalla in Louisville, Ky.

Johnson, who earned a degree in business management in 1998, led the Drake golf team to the 1997 and 1998 Missouri Valley Conference championships.

Drake is one of 19 colleges and universities chosen by the U.S. Captain and players receiving a donation on behalf of a Ryder Cup golfer. Since the program's establishment in 1999 at Purdue University, 22,000 juniors, seniors and graduate students have participated.