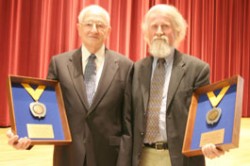 Don Moon and Robert Woodward display their Drake Medals of Service.
At the fall Faculty and Staff Convocation this month, Drake President David Maxwell awarded Drake Medals of Service to Don Moon, associate professor emeritus of education, and Robert Woodward, professor emeritus of journalism. The medals are given each year to individuals who have played key roles in the University's development and enhance the rich heritage of service that symbolizes the true character of Drake.

Moon, a member of the faculty for 34 years, also served as director of educational media and television services from 1964 to 1996. He spearheaded many advancements in television services, including the first TV coverage of Drake Relays produced by students. Following his retirement in 1998, Moon was the University's interim director of distance learning for two years.

In addition, he is a founding member of the popular Billie and Robert D. Ray Lifelong Learning Society, where he has developed courses for the past two years. Moon is a tireless supporter of Drake Athletics. He has had season tickets to Drake men's basketball for 42 years and he's a season ticket holder for women's basketball as well. "Don's commitment, initiative and enthusiasm for Drake have never wavered," President Maxwell said.

Woodward, the only Drake faculty member to receive the University's top awards for teaching and mentoring, added the Drake Medal of Service to his collection of honors.
In presenting the award, President Maxwell noted that Woodward was one of the earliest adopters of the Internet in his classrooms and nearly single-handedly founded the News-Internet major as it is today.

In his 32-year career at Drake, Woodward guided the talents and careers of journalists from small-town newspaper editors to Pulitzer Prize winners. President Maxwell quoted Diane Graham, a Drake graduate and former managing editor of the Des Moines Register, who said, "Arriving at Drake at almost the same time that the Watergate scandal began to unfold, Professor Woodward quickly bonded with his students. While the other Bob Woodward was making headlines, our Bob Woodward earned a deserved reputation as a world-class teacher: challenging, demanding, thought-provoking, inspiring." Woodward still teaches honors classes at Drake.