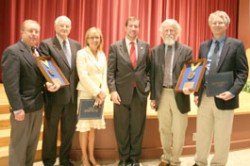 All of the award winners gather with President Maxwell after last week's convocation. From left: Tom Tronick, Don Moon, Melissa Weresh, David Maxwell, Robert Woodward and Paul Kline.
Melissa Weresh, associate professor of legal writing, was awarded the Madelyn M. Levitt Distinguished Community Service Award this fall. Since 2003 she has been a member of the Resource Utilization Committee under the Board of Directors of The Homestead, a nonprofit organization that provides individual instruction and care for autistic students.

Weresh also has helped plan the annual fundraiser for the John Stoddard Cancer Center for the past two years. She has many professional accomplishments as well and recently was selected from 1,300 members of the Legal Writing Institute to serve as co-chair of the institute's 2008 National Conference Committee.

The Madelyn M. Levitt Employee Excellence Award was presented to Paul Kline, database administrator, and to Tom Tronick, associate dean of students. All three Levitt awards were created by Madelyn M. Levitt, a longtime member of Drake's governing board and special assistant to President Maxwell for development.

Kline was selected for his exceptional projects and dedication to improving campus technology and communication. His achievements include working on the implementation of the Banner database system, a business continuity plan and upgrading the University's operating system. Kline, a resident of Norwalk, was nominated for having worked above and beyond his regular duties to get valuable student feedback about his projects. Kline's tireless efforts demonstrate his unwavering dedication and service to the University.

Tronick received the award for his positive influence on the lives of Drake students. For 31 years, from his role as director of student activities to director of residence life, Tronick has served as a leader and mentor to students. His nominator said former students approach Tronick at national meetings and "convey that Tom was a positive influence in their lives and credit him for their professional success."