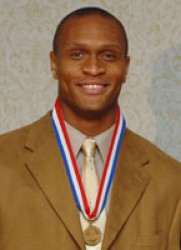 Stacey Walker
Stacey Walker, a freshman defensive back on the Drake football team, has been named Boys and Girls Club of America National Youth of the Year.

In addition to the title, Walker, who was honored at a Congressional Breakfast Sept. 20 in the Dirksen Senate Office Building, will receive a $15,000 scholarship from the Reader's Digest Foundation and the opportunity to meet the president of the United States.

The Youth of the Year program, which has been nationally sponsored by the Reader's Digest Foundation since 1947, recognizes outstanding contributions to a member's family, school, community and Boys & Girls Club; academic excellence; and personal challenges and obstacles overcome.

Walker, a business law and communications major at Drake, threw out the first pitch at the Washington Nationals baseball game Sept. 20 against the Atlanta Braves.

He appeared on the NBC "Today" show on Sept. 21. The next day, Walker and the other regional finalists met President George Bush.

"I'm deeply honored to receive this award," Walker said. "I'm really overwhelmed. I can't really put into words how I feel right now. This whole week has been quite an experience."

Walker earned all-conference honors in football and track as a senior at Washington High School in Cedar Rapids, Iowa. To compete for this prestigious national honor, Walker, as well as the four finalists, garnered the Youth of the Year title at their respective local, state and regional levels. The Reader's Digest Foundation awarded each state finalist a $1,000 college scholarship and each regional finalist a $10,000 college scholarship.

Walker's loss of his mother at the age of 4 was definitely a tragedy, but the wisdom and strength of his grandmother carried him through, shaping him into a stellar young man.

The Boys & Girls Club of Cedar Rapids also provided a means for Walker to excel. He started out as a member, but quickly transitioned into a mentor, role model and staff member. Through Passport to Manhood, a program that teaches young boys how to become responsible young men, he helped others escape their dim surroundings in hopes of pursuing a brighter future.

In addition to being an avid football player at his alma mater, Washington High School, Walker excelled in academics and was very active in student government and the debate team. He was presented with the Martin Luther King Jr. Award and selected as member of the National Council on Youth Leadership.

Moreover, Walker used his athletic talents to help those in his community by coaching and starting the Student Athlete Mentoring program, in which he and other athletes mentored at-risk youth in the areas of sportsmanship, academics and everyday life.