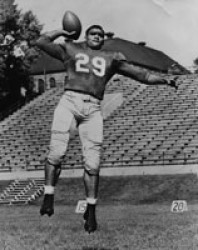 Drake will name the field at the newly renovated Drake Stadium in honor of Johnny Bright, the Bulldogs' greatest athlete.
Shortly before the game begins, the Drake Stadium field will be dedicated in honor of Drake's greatest athlete, Johnny Bright.

Bright brought power and glitz to the Bulldog football backfield in the late 1940s and early '50s. He ran with strength and grace and threw passes with speed and accuracy. In his sophomore year (1949), he won the national collegiate total offense crown and in 1950 he set the best single season total offense mark in the nation with 2,400 yards.

A cruel play in Stillwater, Okla., robbed Bright of a certain Heisman Trophy in 1951. Bright was the first African-American football player to play in Stillwater, and Oklahoma A&M College (now Oklahoma State University) did not take kindly to his dominance. On an early Drake offensive play in the game, an Oklahoma A&M lineman charged Bright – who did not have the ball – and hit him in the face, breaking Bright's jaw and ending his collegiate football career.

In approving the name of the playing field, the Drake Board of Trustees affirmed that "Johnny Bright was an immensely gifted athlete who gave his heart, and his body, to Drake University. As an alumnus of Drake, he went on to a distinguished career as a football player in Canada, and — perhaps more important — as a gifted and highly successful teacher and school administrator who had a positive impact on the lives of thousands of young people."

A series of photographs taken by Des Moines Register photographers Don Ultang and John Robinson showed the brutality of the play and the obvious racism involved. The photo sequence won a Pulitzer Prize and was also reprinted in Life Magazine.

Because of this incident and because the Missouri Valley Conference refused to take any action, Drake withdrew from the conference for several years before resuming conference membership in 1955.

Bright's daughters, Kandis Bright and Deanie Bright-Johnson, Deanie's husband Cecil, and their daughters, Maura and Brea Johnson, will participate in the dedication.

Bright also starred in basketball and track for Drake. He earned a bachelor's degree in education from Drake in 1952. He went on to a successful career in the Canadian Football League and later won accolades for his work as a junior high school principal and his service to youth. He died of a heart attack in 1983 at the age of 53.

To view the Pulitzer Prize-winning photos, listen to accounts of the Drake-Oklahoma A&M game and learn more about Bright, visit the Drake Heritage Collection at http://www.lib.drake.edu/heritage/bright/story/index.php.