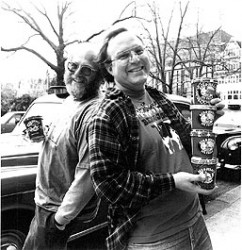 Get the scoop on radical business philosophy from Ben Cohen, left, and Jerry Greenfield at the Bucksbaum Lecture Tuesday.
Ben Cohen and Jerry Greenfield, the masterminds behind Ben & Jerry's Homemade Inc., are coming to Drake University, ice cream in hand.

The free-spirited entrepreneurs, who dreamed up flavors such as "Cherry Garcia" and "Chunky Monkey," will deliver this fall's Martin Bucksbaum Distinguished Lecture at 7:30 p.m. Tuesday, Oct. 3, at the Drake Knapp Center, 26th Street and Forest Avenue.

The lecture, which is free and open to the public, is titled "An Evening of Social Responsibility, Radical Business Philosophy and Free Dessert for All." A reception featuring ice cream will follow.

In 1978, the Long Island natives turned a storefront venture into a $160 million publicly held ice cream empire by making social responsibility and creative management the cornerstones of their business.

Ten years later, former President Ronald Reagan named Cohen and Greenfield "U.S. Small Business Persons of the Year." In an awards speech, President Reagan said, "[Cohen and Greenfield] truly stand out as an example of what American free enterprise is all about."

The pair will bring their philosophy to life at the lecture podium with a presentation that delivers a rousing tribute to America's entrepreneurial spirit, filled with hilarious anecdotes and radical business philosophy.

The Martin Bucksbaum Distinguished Lecture Series is made possible by a gift from Melva and the late Martin Bucksbaum, former chairman and president of General Growth Corp. and longtime member of Drake's governing board.

For more information about the lecture, call 515-271-3994 or send an e-mail message to susan.breakenridge@drake.edu.