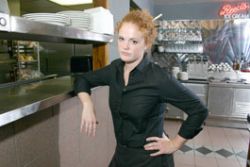 CONTACT: Lisa Lacher, 515-271-3119, lisa.lacher@drake.edu

Beginning Thursday, Sept. 28, Drake University Theatre will present Joan Holden's play "Nickel and Dimed," adapted from the best-selling book by Barbara Ehrenreich.
The play chronicles the experience of an undercover journalist as she moves across the country and takes on a series of low-wage jobs. In her attempt to discover whether or not Americans can get by on minimum wage, she lives the life of a housekeeper, waitress and discount-chain employee. Her experiment reveals some unsettling truths about the lives of American workers. The play contains smoking and adult situations.
"Nickel and Dimed" was first produced by Seattle's Intiman Theater in 2002. Holden worked as chief playwright for the San Francisco Mime Troupe and won an Off-Broadway Theatre Award for "Seeing Double" in 1990. Ehrenreich is the author of 13 books and is a contributing writer for Time magazine. She frequently writes for Harpers and The New York Times. Her book, "Nickel and Dimed: On (Not) Getting By in America," was named a New York Times best seller and Notable Book.
Drake's production is directed by Deena Conley, Drake assistant professor of theatre arts. It will run for five performances, beginning Sept. 28 through Oct. 1, in Studio 55 of the Harmon Fine Arts Center, 25th Street and Carpenter Avenue. Show times are 8 p.m. Thursday through Saturday, with 2 p.m. matinees on Saturday and Sunday. Tickets are $5 for adults, $3 for students and seniors, and $1 with a Drake ID. Reservations are recommended due to limited seating. For tickets, call the Drake Fine Arts Box Office at 515-271-3841.