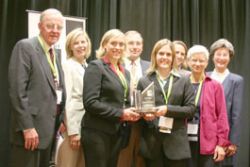 CONTACT: Lisa Lacher, 515-271-3119, lisa.lacher@drake.edu

Drake University recently was honored as one of the top five Iowa employers for excellence in worksite health promotion. The Wellness Council of Iowa awarded Drake its Well Workplace Award at a Sept. 19 luncheon ceremony during the 16th Annual Conference on Worksite Wellness in downtown Des Moines.
Criteria for the award include demonstrated commitment to the health programs, a written annual operating plan specific to health promotion, supportive policies and effective programs to increase awareness, educate and encourage behavior change in employees, according to the council.
In accepting the award, President David Maxwell said, "I want to express our sincere appreciation to the Wellness Councils of America for this wonderful award.
"The overwhelming success of Drake's wellness program is due to two factors," President Maxwell added. "The first is vision and leadership, and we are indeed fortunate to have Jana Peterson leading our program, along with her colleague Kristi Cook. They're doing an absolutely wonderful job of connecting their resources and programming to the Drake community. The second factor is the hundreds of faculty and staff who participate in wellness programs — their commitment to their individual health and wellness contributes to a vibrant and energetic community."
Drake's employee wellness program, established in 1999, focuses on providing faculty, staff and students with opportunities to improve their health through education, awareness and support. Wellness opportunities include employee health screenings, an annual health fair as well as cholesterol management and walking programs.
Other recipients honored at the luncheon were Principal Financial Group, Mercy Medical Center-Des Moines, Pella Corp. and Grand View College.
"These five organizations join a growing list of America's Healthiest Companies as judged by the Wellness Councils of America and the Wellness Council of Iowa," said Amy Terhaar, associate director of the council.