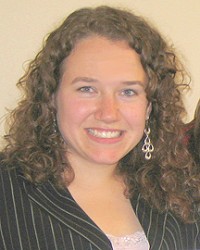 Danielle Sturgis
The Network of Enlightened Women (NEW) recently named Drake University senior Danielle Sturgis "Enlightened Woman of the Year" at its first national conference on Capitol Hill in Washington, D.C.

Sturgis founded Drake's chapter of NEW, a national organization for conservative college women, in 2005. She also co-founded Citizens for Tight Borders, an immigration policy reform organization, at Drake earlier this year.

The Belleville, Ill., native plans to graduate with a degree in journalism and sociology in December, then return to Washington, D.C., and work in the conservative movement.

"I plan on finding the best opportunity to battle political correctness, particularly on college campuses and preferably in the realm of radical women's studies programs," Sturgis said. "I'm looking to give a voice to the unrepresented and to reclaim feminism."