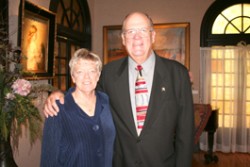 Sandy and Larry Mayhew at the Weaver Medal of Honor reception this spring.
Drake pharmacy students are gaining a state-of-the-art compounding laboratory where they'll learn how to prepare medications that are not commercially available, thanks to a $500,000 gift from Drake alumnus Larry Mayhew and his wife, Sandy.

Pharmacy compounding — in which pharmacists make medications from scratch — is growing rapidly as demand for customized prescriptions increases to better meet patient needs. The new Mayhew Compounding Laboratory will greatly enhance opportunities for Drake pharmacy students to learn the latest techniques in compounding.

Drake's new laboratory is scheduled to be completed in spring 2007 in classrooms 114 and 115 of Harvey Ingham Hall. The classrooms are being renovated and furnished with advanced compounding equipment.

"For many years it has been my privilege to serve as a preceptor for numerous Drake pharmacy students," Mayhew said. "They often mentioned the need for an updated compounding laboratory at Drake. Sandy and I decided to make this gift so that we could enhance the students' learning experience."

Mayhew graduated from Drake in 1967 and worked for three years in a retail pharmacy in Chicago before moving to Phoenix to work in an independent pharmacy that he later purchased. He opened more pharmacies in the early 1980s and eventually owned six, including a compounding pharmacy and a closed-shop pharmacy serving assisted-living communities and hospices. He retired last fall after selling the last of his pharmacies.

In addition to contributing to professional organizations, Mayhew has been a generous supporter of his alma mater, beginning with a $10 gift he made shortly after graduation. Since then, he has been a regular contributor to the Drake Fund and recently joined the President's Circle.