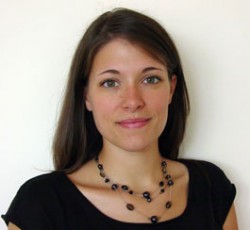 Heather King
Heather King has been named the new director of Drake's Anderson Gallery.

King received her bachelor's degree in art history and studio art from the University of Iowa in 2004. She previously worked as project manager at the State Historical Museum and as a museum technician at the University of Iowa Museum of Art.

"My goal is to use the gallery as a space to bring students from different departments together," King said. "Art is universal and can be used to engage conversation in all fields, and it is my hope that students from all departments will use the Anderson Gallery to expand their minds, explore new ideas and experience what art has to offer."

The Anderson Gallery has a wide range of programs scheduled for the fall, beginning with an installation titled "Lost and Found" by Yoji Matsumura of Tokyo, Japan. Matsumura will create art using objects from the Des Moines area, which he will gather during a month-long stay prior to the opening reception, which runs from 5 to 7 p.m. Friday, Sept. 8.

The exhibition will continue through Oct. 13 in the Anderson Gallery, 25th Street and Carpenter Avenue. The Anderson Gallery hours are noon to 4 p.m. Tuesday through Sunday. Admission is free. For more information, call (515) 271-1994 or visit www.drake.edu/andersongallery.

Keep an eye on the Drake Web site for future presentations in the Anderson Gallery.