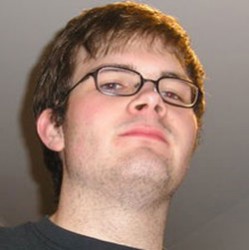 Dan Connelly
Dan Connelly, a junior English and secondary teaching major at Drake University, recently won 33 1/3's "Under 21 Writing Contest," which landed him $250 and publication in the latest installment of a literary book series.

Connelly's essay is about high school days spent listening to Phil Ochs' album "I Ain't Marching Anymore." It will be published as chapter 21 of "33 1/3 Greatest Hits Volume 1." The first 20 chapters will be excerpts from previous books, which have focused on the works of Pink Floyd, Radiohead, the Smiths and others.

Connelly, a native of Arlington Heights, Ill., said he learned about the competition while surfing a literary Web site that features news, reviews, interviews, columns and a Web blog. He chose to write about Phil Ochs because political music has been a passion of his for many years and has shaped his development as a person.

He says he might write a treatment for a book about Ochs and will definitely find and enter more essay contests.

"I really doubted that I would win. This is quite a thrill," Connelly said.

Read a portion of Connelly's essay at http://33third.blogspot.com/. "33 1/3 Greatest Hits Volume 1" is scheduled for a September release by Continuum International Publishing Group.