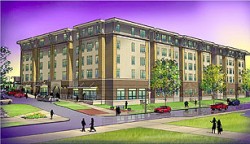 A partnership between Hubbell Realty and Drake University seeks to create a $34-million student housing and retail development at 30th Street and Carpenter Avenue.
Drake University and Hubbell Realty leaders recently announced plans for a $34-million housing and retail development at 30th Street and Carpenter Avenue.

The development will create 7,000 feet of retail space for street-level neighborhood businesses and upper floors for state-of-the-art student suites. The buildings will house up to 500 students.

Current design calls for a mix of one-, two- and four-bedroom units, where each student has a private bedroom and shares a common living and kitchen space. The housing will be targeted primarily at junior and senior undergraduate students and graduate students in the pharmacy program and the Drake Law School.

The project, designed by FEH Architects & Engineers, will be developed in a village atmosphere where students can live, work, study and socialize while the campus community and its neighbors can patronize the new businesses.

The central community area will be formed by three five-story buildings between 30th and 31st streets, adjacent to Carpenter Avenue – the main east-west pedestrian corridor between 34th Street – home of Drake's Greek houses, other off-campus housing and Drake's main campus. This pedestrian path will be enhanced with streetscape improvements to create an energetic and safe pedestrian mall at the edge of the village.

Work on the development will begin during the coming winter with occupancy expected in fall 2008.