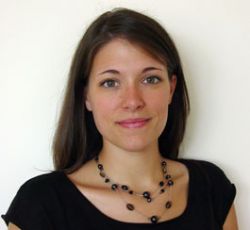 CONTACT: Daniel Finney, 515-271-2833, daniel.finney@drake.edu

Heather King has been named the new director of Drake's Anderson Gallery.
King received her bachelor's degree in art history and studio art from the University of Iowa in 2004. She previously worked as project manager at the State Historical Museum and as a museum technician at the University of Iowa Museum of Art. Her duties at Drake begin Aug. 1.
"My goal is to use the gallery as a space to bring students from different departments together," King said. "Art is universal, and can be used to engage conversation in all fields, and it is my hope that students from all departments will use the Anderson Gallery to expand their minds, explore new ideas, and experience what art has to offer."
The Anderson Gallery has a wide range of programs scheduled for the fall, beginning with an installation by Yoji Matsumura of Tokyo, Japan. Matsumura will create art using objects from the Des Moines area, which he will gather during a month-long stay prior to the opening Friday, Sept. 8, at 5 p.m. His work will be displayed Sept. 8 to Oct. 13.
Other upcoming Anderson Gallery displays (subject to change):


Jeremy Drummond
Friday, Nov. 11 to Friday, Dec. 15


Group Show by New Faculty
Friday, Jan. 19 to Friday, Feb. 16


36th Annual Juried Student Art Exhibition
Sunday, Feb. 25 to Friday, March 16


Bachelor of Fine Arts Show 1
Friday, March 30 to Friday, April 13


Bachelor of Fine Arts Show 2
Friday, April 20 to Saturday, May 5