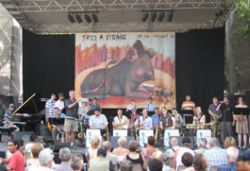 CONTACT: Lisa Lacher, 515-271-3119, lisa.lacher@drake.edu

The Drake University Jazz Ensemble I recently returned from a European tour, where students performed at one of the continent's oldest and largest jazz festivals in Montreux, Switzerland. The 20-piece ensemble also played gigs in Vienna, Austria; Brugge, Belgium; and one at a Roman amphitheatre in Vienne, France.
Attendance at the festival in Vienne exceeded 8,000. Andy Classen, Drake's director of jazz studies, said Vienne, which was built on the ruins of a Roman city, was the most enjoyable stop on the tour. An artist painted the ensemble as the students played.
Ensemble member Brad Cook, trombone, said Switzerland was his favorite country to visit. "The scenery was beautiful, and people were very friendly and hospitable. And they have this interesting thing they do – they specifically ask for two more songs at the end of a show instead of one encore. I think that's pretty smart."
Jazz Ensemble I has received numerous awards at various competitions, including the University of Wisconsin – Eau Claire Jazz Festival, where Drake was named Outstanding College Jazz Ensemble five times (1996, 1997, 2000, 2003 and 2006). Over the past seven years, Jazz I has recorded five CDs, with many more to come with the addition of a 32-track recording studio at the Mainstay, the jazz program's dedicated rehearsal facility. To listen to audio of Jazz I, visit www.drake.edu/artsci/Music_Dept/recandpub/jazz.html.