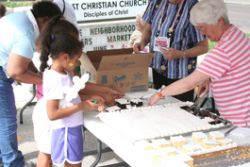 CONTACT: Lisa Lacher, (515) 271-3119, lisa.lacher@drake.edu
The Drake Neighborhood Farmers' Market opened its 10th year with a celebration that included speakers from Drake University, the Drake Neighborhood Association and First Christian Church, as well as a concert by the Java Jews and free birthday cake on Wednesday, June 7.
Market-goers bought fresh vegetables, jams, honey, kettle corn, barbeque sandwiches, baked goods, homemade crafts and much more. Children participated in a veggie toss game and scaled the National Guard climbing wall. Salsa dance lessons concluded the evening's festivities.
Dolph Pulliam, director of community outreach and development at Drake and volunteer at the market for the past eight years, said he was pleased with this year's opening-day turnout. He said that he expects even more people to visit the market in weeks to come.
"This year should be the breakout year for the Farmers' Market," Pulliam said. "It's come a long way, and now it's going to flourish."
Next week there will be free crafts and face painting for children, Dr. Sandra Hobson will talk with visitors about hearing problems and solutions and Anderson Erickson Dairy will be giving free samples of its new reduced-sugar lemonade.
The market runs from 4 to 7 p.m. every Wednesday through September in the parking lot of First Christian Church, 25th Street and University Avenue.