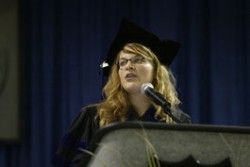 Brooke Timmer
The Law School faculty selected two students in late spring to receive awards.
Brooke Timmer, 2005-06 Student Bar Association president, received the Iowa State Bar Association Award. The award is given to the graduating senior who by service, attitude and ability is expected to be the most successful member of the class in leadership and service to the Iowa State Bar.
Timmer led the Student Bar Association in a very eventful and successful year that saw the University and the Law School responding to several challenges and undertaking a number of major initiatives.
In addition to serving as SBA president, she also served as Governor of the American Bar Association Law School Division for the 8th Circuit, and in that capacity traveled widely on behalf of the ABA representing it and working with Student Bar Associations at other schools.
In conferring the award, the faculty recognized strong leadership ability, team-building and consensus-building skills, and demonstrated capacity to serve the Bar and the profession. Timmer is from Aplington, Iowa and is a graduate of Wartburg College.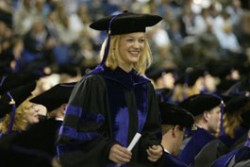 Sarah Russell
Selected to receive the 2006 ALI-ABA Scholarship & Leadership Award was Sarah Russell. Russell has been an active member of the Student Bar Association during her years at Drake, Projects Editor of the Drake Law Review, Faculty-Student Representative at faculty meetings, and a leader and volunteer in many other student organizations.
She graduated with High Honors and will be taking the Minnesota Bar Examination. A native of Fargo, North Dakota, and a graduate of Concordia College in Moorhead, Minnesota, she has accepted a position with the Minneapolis Law Firm of Lockridge Grindal Nauen P.L.L.P.