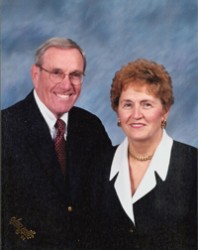 Wayne, LW'72, and Donna Kern
Through the generosity of Wane and Donna Kern, Drake Law School received a gift of $1.5 million to endow the Kern Family Chair. The focus of the chair is pursuant to the new strategic plan and on-going efforts to enhance Drake Law School.
Kern, a 1972 Drake Law School alumnus, attended Drake Law School as a non-traditional student after a career as high school teacher and banker in Macomb, Ill. He went on to a career in merger and acquisitions law, the majority of it in the cable television and communications area.
He team-taught a mergers and acquisitions course at Drake Law School and has volunteered at the Drake Legal Clinic. Donna Kern is a medical doctor and retired family physician; and their sons, Brian Kern, a lawyer in Colfax, and Matthew Kern, a Des Moines real estate attorney, both graduated from Drake Law School.
"The Kerns have been generous supporters of Drake Law School for many years," Law School Dean David Walker said. "They've endowed a scholarship and given major gifts to our building projects like Opperman Hall through the years. They have not only been generous supporters of what we do here at Drake Law School, but both Wayne and Donna, and Matt and Brian as well, have been good friends."