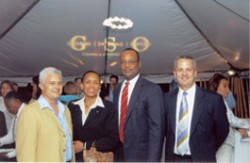 Bryan Glinton, GR'93, LW'93, third from the left, practices law in paradise: his native Nassau, Bahamas. From the left are his partner Andrew G.S. O'Brien, Allyson Maynard Gibson, Bahamas attorney general, Glinton and partner Roy W.M. Sweeting.
Bryan Glinton, GR'93, LW'93, says this without a hint of irony: "The Bahamas is a hot jurisdiction right now."
Glinton is talking about the business climate rather than the temperatures in his native Nassau. When it comes to business in the Bahamas, he's always got an eye on the thermometer.
In November, he opened up a three-person firm, Glinton Sweeting O'Brien, in Nassau to handle the fast-growing financial services and development market in the Bahamas. Less than a year in practice, the firm has already added another lawyer to handle the workload and is looking at two more before the end of 2006.
"We're already doubling the size of our practice," Glinton said. "That's very encouraging. The opportunities here are just staggering."
Glinton's firm is representing big-time North American companies setting up shop on the islands like never before, including casino-magnates Harrah's Entertainment and the Ritz-Carlton. Glinton is also working with pro golfer Tiger Woods on a youth foundation project on the nearly 700 islands in the Atlantic Ocean between the coasts of Florida and Haiti.
Glinton has come a long way from the young man who, as a first year law student, had to be told to wear sweaters, heavy coats and mittens when the University of Miami graduate arrived in Des Moines for his first winter.
Fortunately, Glinton found Alma Morris, a retired Des Moines schools secretary who lives near Drake and helped the young man adjust to Iowa climates and culture.
"He did fairly well," Morris said. "He was amazed to see snow. They don't have that where he's from. I told him about needing heavier clothes and he got onto it pretty well after that."
Glinton survived his culture shock with the help of area families and Drake supporters such as Morris, whom Glinton calls "my Iowa mother."
"She helped me get through the winters," he said. "There was nothing like coming home from a long day and finding a pot of hot chilies on your doorstep. I was taken in by a lot of families at Drake. I'll always remember those times fondly."
So how did a man born in Miami, reared in Nassau and pretty much a lifer in the 90-degree plus temperatures find his way to Drake Law School in Iowa?
Glinton earned his undergraduate degree at the University of Miami at a time when the school's football team was winning national championships on a regular basis.
Glinton decided he needed "a few less distractions" when he picked a law school. At Drake Law School he flourished. Among other achievements he was a member of the National Mock Trial Team, the ATLA Mock Trial Team, and the Order of the Barristers. He interned a year with Justice, now Chief Justice, Louis A. Lavorato, L'W61, and he earned a joint JD/MBA degree.
"It was a major change from a climatic perspective and from a cultural perspective," he said. "I used what I learned at Drake as a basis for building my career and my practice. Drake was perfect for me."