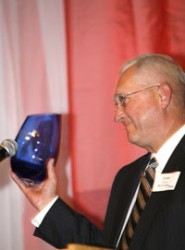 H. Lynn Horak accepts award at banquet.
The Drake College of Business and Public Administration awarded its first Community Leadership Award to H. Lynn Horak at last month's Business Days Banquet.

Horak, regional president of Wells Fargo Iowa and a member of the Drake Board of Trustees, is widely involved in the Des Moines-area community. His wife, Charlene, is a graduate of Drake's College of Pharmacy and Health Sciences.

In presenting the award, Charlie Edwards, dean of the College of Business and Public Administration, said, "Lynn has been a great friend to Drake and the College of Business for many years."

Horak's community involvement includes the Greater Des Moines Partnership Board, Project Destiny – Quality of Life Task Force Committee Chair, Des Moines Development Corp., Iowa Bankers Association Board of Directors, Civic Center of Des Moines Honorary Board of Trustees, United Way of Central Iowa Board, University of Northern Iowa Board of Trustees and Central Baptist Theological Seminary Board of Trustees.

Horak is active in many fundraising activities for various civic organizations, including: the Blank Park Zoo Foundation, Des Moines Botanical Center, Children and Families of Iowa, Iowa College Foundation, Juvenile Diabetes Foundation and the United Negro College Fund.