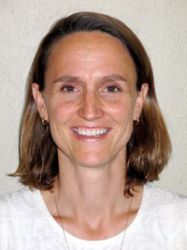 Sandy Hatfield Clubb
CONTACT: Lisa Lacher, (515) 271-3119, lisa.lacher@drake.edu;
Daniel Finney, (515) 271-2833, daniel.finney@drake.edu;
Mike Mahon, (515) 271-3012, mike.mahon@drake.edu
Sandy Hatfield Clubb, senior associate director of athletics and senior women's administrator at Arizona State University in Tempe, Ariz., has been named the 16th athletic director at Drake University, Drake President David Maxwell announced today.
Hatfield Clubb, 42, succeeds Dave Blank, who recently left to become athletic director at Elon University in Elon, N.C. Hatfield Clubb's appointment, which is effective Aug. 1, concludes a national search that included more than 40 applicants for the position. She will become the 16th athletic director in Drake history. Her selection follows two visits to Drake, during which she underwent extensive interviews with a variety of on- and off-campus constituencies.
"Sandy Hatfield Clubb is the perfect person to build on the wonderful progress of Drake Athletics achieved during Dave Blank's tenure," President Maxwell said. "She has a national reputation for her great success in all facets of athletics administration at a major Division I institution and, at the same time, she has an understanding of and passion for the distinctive role of athletics at Drake University.
"Sandy's focus is on the quality of experience for student-athletes and on the value of recreation and wellness programs for the entire community. She is committed to excellence in both academics and athletics, and has been the architect of highly innovative programs that integrate the two. Sandy also has had significant experience in working with coaches to build highly competitive programs. With her experience, expertise, passion and considerable interpersonal skills, Sandy will be a great leader for Drake Athletics and a wonderful ambassador for the University as a whole. We are delighted to welcome Sandy, her husband, Jeff, and their children, Tristan and Skyelar, to the Drake family."
"It is a great honor to become a member of the Drake University family," Hatfield Clubb said. "President Maxwell's vision for excellence is well-articulated throughout the campus community. It is a privilege to become a university administrator under his leadership. I am attracted to Drake because of its commitment to academics and the true integration of the student-athletes as well as the desire for continued excellence in athletics. Drake's coaches and administrators are among the best in the country and I'm looking forward to working directly with them. My husband and I are thrilled to be moving to Iowa and to becoming active members of the Des Moines area community."
Tom Davis, Drake men's basketball coach, praised Hatfield Clubb's selection.
"One of the best compliments I can give Sandy is how impressed I was by the pool of candidates she came to us from – she emerged as the best choice for Drake in a very competitive group," Davis said. "Her career in athletics at the highest level of Division One gives her a wealth of knowledge and experience to bring to Drake University."
"Dave Blank's commitment to administration, alumni, community and coaching staff left Drake in a good place," Davis noted. " Sandy Hatfield Clubb is from the same mold—she is just what we need to keep things moving in the right direction."
Hatfield Clubb is the third woman to serve as athletic director in the Missouri Valley Conference. Hatfield Clubb will be one of 25 women athletic directors at the 334 schools playing NCAA Division I basketball and the first in Iowa. She is active in the National Association of Collegiate Women Athletics Administrators, which strives to enhance college athletics and to promote the growth, leadership and success of women as athletics administrators, professional staff, coaches and student-athletes.
An avid swimmer, cyclist and triathlete, Hatfield Clubb grew up in Bethesda, Md., and her husband, Jeffrey Clubb, is a native of Sigourney, Iowa. They are the parents of two children – a son, Tristan, 7, and a daughter, Skyelar, 4.
Hatfield Clubb earned a bachelor's degree in business administration and a master's degree in education from the University of Texas at El Paso. Upon graduation, she was assistant aquatics coach at Washington and Lee University from August 1989 through July 1990.
She joined Arizona State in 1990 as a management intern and became assistant to the director of athletics in 1992. She was promoted to assistant director of athletics for student and administrative services in 1996 and in this position she created a life skills program for student-athletes that has been recognized nationally as a Program of Excellence.
In 1998 Hatfield Clubb was named associate director of athletics for student and academic services at Arizona State. Since 2002 she has been ASU's senior associate director of athletics and served as the senior woman administrator to the Pacific-10 Conference and the NCAA.
In her sixteen years at Arizona State, Hatfield Clubb has had a broad range of experience in all aspects of athletics administration, from direct oversight and administration of intercollegiate programs, compliance and academic support, management, personnel and budget, to fundraising and community relations. She has had extensive experience in representing not only ASU athletics, but also the university as a whole, to alumni, supporters, the Greater Phoenix community, and to national organizations and corporations.
Drake University's previous athletic directors are:
| | |
| --- | --- |
| 1894-95 | W.W. Wharton |
| 1897 | William J. Monilaw |
| 1907 | Doc Pell |
| 1910-1918 | John L. Griffith |
| 1919-1921 | M.B. Banks |
| 1922-1932 | Ossie Solem |
| 1931-1940 | E.O. Williams |
| 1940-1946 | V. J. Green |
| 1946-1951 | J. Russell Cook |
| 1951-1956 | Jack McClelland |
| 1957-1959 | Dolph Stanley |
| 1959-1968 | Jack McClelland |
| 1968-1986 | Bob Karnes |
| 1986-1990 | Curt Blake |
| 1990-2000 | Lynn King |
| 2000-2006 | Dave Blank |