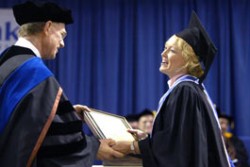 Leanne Freeman-Miller is the 2006 winner of the Levitt Teacher of the Year award.
Leanne Freeman-Miller, associate professor of voice, is the 2006 winner of the Madelyn Levitt Teacher of the Year award – the high honor awarded to teachers at Drake. The award recognizes the Drake faculty member who best demonstrates excellence in teaching, inspirational leadership and intellectual rigor.

A passionate teacher who drives students to succeed, Freeman-Miller earned the respect and dedication of her students in her rigorous voice lessons and classes.

Students describe her teaching effectiveness as "Amazing! She loves teaching, and that is evident in everything she does from coaching voice lessons, to attending conferences, to researching different pedagogies of voice techniques. She makes you believe in yourself because she does."

One student also commented, "Professor Freeman-Miller has the blessed gift of hearing potential in voices. She believes when her students cannot."

Freeman-Miller, a soprano herself, received her bachelor of music education degree from the University of South Dakota in Vermillion, S.D., and her master of music degree from Drake, earning Pi Kappa Lambda honors.

An accomplished vocalist with hundreds of concerts and performances to her credit locally, regionally and nationally, Freeman-Miller puts teaching first in her career. She is the very definition of the scholar-teacher that Drake values – learning alongside her students in a partnership which bears fruit for both.

"A teacher from a neighboring institution recently asked me if I had ever considered seriously pursuing a professional singing career in opera," Freeman-Miller said. "I replied that I had not. I told him I did not sing well enough when I was younger, and feel that my success as a singer today is due in large part to my career as a teacher of singing. Quite simply, teaching singing has enabled me to master my technique and artistry."

Freeman-Miller defines her success as a teacher by her students' accomplishments. Her students are frequent winners of national competitions and have gone on to pursue post-graduate degrees at the nation's top graduate schools. Two of her former students are members of the Grammy award-winning male ensemble, Chanticleer, and most recently, a student was one of 28 semi-finalists for the "Singer of the Year" competition in Shreveport, La.