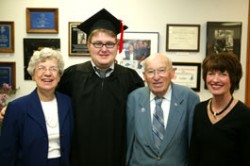 New Drake grad Phillip Longman, second from the right, wore his great-grandmother's graduation gown at commencement last weekend. The gown made its first appearance on Leonta Starzinger Morrison, who graduated from Drake in 1906. Longman stands with his g
When Phillip Longman, JO'06, graduated last weekend, he wore a garment that's been around nearly as long as Longman's alma mater.

Drake held its 125th commencement Sunday, May 14. Longman crossed the stage wearing a family graduation gown that made its debut a century ago when his great grandmother, Leonta Starzinger Morrison graduated from Drake in 1906.

In the ensuing decades, the gown has made appearances at 17 college graduation ceremonies at Drake, the University of Iowa, Bradley University, the University of Michigan, Culver-Stockton College and the former Phillips University.

"I'm happy to take part in the Drake tradition of this robe," Longman said. "Members of my family have been wearing it for graduation ever since my great-grandma graduated here in 1906. I'm wearing a new cap because it came with a tiny little hat that wasn't big enough for my enormous head."

The garment has been on a member of the Morrison clan in every decade since the 1930s – its last appearance was on University of Iowa alumnus Jay Nelson in 1994.

The original wearer, Leonta Morrison, was just large enough that her gown fits everyone from the slight build of Paul Morrison, a 1939 Drake alumnus and long-time Bulldog athletics historian, to the strapping form of Phillip Longman, this year's graduate.

If all goes well and the garb holds up, the gown will cross the stage again in another four years. Abby Dierks, granddaughter of Paul Morrison and daughter of Holly Morrison Dierks, who wore the gown in 1976, enters Drake as a first-year student this fall and would graduate in 2010.