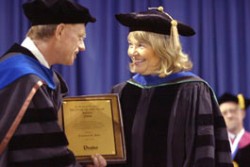 Provost Ron Troyer awards Eleanor Zeff the Levitt Mentor of the Year Award at last weekends' undergraduate commencement.
Eleanor E. Zeff, associate professor of political science, is the 2005-2006 winner of the Madelyn M. Levitt Mentor of the Year Award – the highest honor given to mentors at Drake.

Student nominators praised Zeff's tireless dedication to their success both in and out of the classroom at Drake for more than a decade. She is best known for her engaging courses, long office hours and contacts with a variety of international organizations.

One student noted Zeff makes extra effort to ensure her courses are student-centered.

In a recent class, Zeff required "students to hand in questions they had for that day's readings so that she could tailor her lectures to answer those questions," said one of Zeff's students. "She always keeps the interest of the student in mind."

Zeff serves as a faculty adviser to applicants for student Fulbright Scholarships, which provide grant money to students for the pursuit of post-graduate research and teaching assistantships. Under Zeff's guidance, three students who recently completed their senior year at Drake have been offered Fulbright grants – a record for the University.

Through the Fulbright grants and other international contacts, the professor has helped students secure work internationally in such far-away places as the Middle East, western Sub-Saharan Africa, the United Kingdom, Mexico, the Philippines and South Korea.

"Dr. Zeff has gained a reputation among students at Drake for being the 'go-to-professor' for anyone who's thinking of doing anything internationally," one student nominator said.

The soon-to-be Peace Corp volunteer credited Zeff for the opportunity.

"Time and time again I came into her office asking about the Peace Corps and the application process, and each time she had a solid answer to my questions," she said.

Zeff often stays late to work with students.

"It is not uncommon to go to a meeting at 9 p.m. and see her still in her office speaking with a student," a pupil said.

Zeff came to Drake in 1988 as visiting associate professor of political science after working at Iowa State University from 1982 to 1991. She taught English as a Second Language in Des Moines from 1979 to 1981, and had a visiting position at Central College in 1981. Zeff became an assistant professor at Drake in 2001 and recently was promoted to associate professor.

Zeff earned her bachelor's degree in political science and French from Tufts University in Medford, Mass. She earned her doctorate in political science from The Graduate Faculty of the New School in New York City in 1983.

Drake prizes close working and learning relationships among students, faculty and staff and Zeff's mentoring philosophy is a top-flight example of this important student-teacher dynamic.

Said Zeff, "Mentoring is one of the most rewarding parts of teaching because it allows students and professors to discuss intellectual, professional and personal issues and to learn from each other, and it remains an exciting challenge for me."