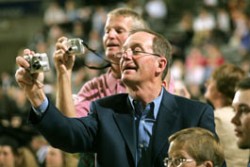 Happy parents and family snap photos as new graduates crossed the stage at the Knapp Center on Sunday.
More than 1,200 students joined the ranks of Drake alumni during commencement ceremonies this past weekend.

Renowned composer Alice Yost Jordan and Academy Award-winning actress Cloris Leachman received honorary Doctor of Fine Arts degrees at the 125th Undergraduate Commencement Ceremony in the Drake Knapp Center.

Jordan, a 1938 Drake alumna whose music has sold more than 250,000 copies worldwide, said, "I am deeply grateful for this honor. On a Saturday morning when I was 8 years old, my parents brought me to this campus, took me to Howard Hall to help me enroll in piano lessons in the preparatory program. Since that day, Drake has been an significant part of my life."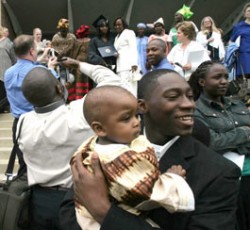 This newly minted Drake alumnus says hello to (hopefully) future Drake alumnus.
"In America we are so fortunate that the founders of our country were visionary men of great wisdom who used our language with such brilliance and grace," Jordan said. "In 1776, when they gathered in Philadelphia to write the Declaration of Independence and the Bill of Rights, they included the pursuit of happiness right there with life and liberty, elevating the pursuit of happiness as the right of all people."

"I want to leave you this morning with a sentence from Henry Moore, a distinguished British artist and sculptor who is well represented in our city of Des Moines. I have read that he offered the following sentence to a young audience on an occasion very similar to today's event. He said, 'Find something you really love to do, something you can devote your life to every day for as long as you live.' And I would add, 'Then you will have found your pursuit of happiness. Every good wish for your journey.' Thank you."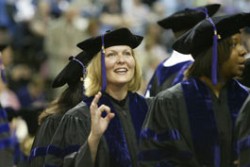 A new Drake Law School alumna signals life is "A-OK" to a loved one in the crowd.
Leachman also told of her ties to Drake that date back to childhood.

"When I was 11 years old, living out in the country on Route 6 on Hubbell Avenue, Mama said, 'Why don't you see if you can get a ride down at the Lone Tree filling station, about a quarter of a mile down the highway, and go get into town and see if you can get to Drake University. They have a little children's theater there and maybe you could get a part in this little radio show they're doing from the University," Leachman said. "So off I go and pretty soon I come by the house. Mama's hanging out the front door and I'm waving on the running board of a coal truck and yelling 'I got a ride, Mama!' I somehow got to Drake University on a coal truck … and I got the part of a princess."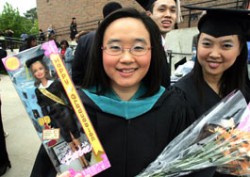 Barbie, the popular doll, didn't – repeat did not – receive an honorary Drake degree. But this new graduate earned a degree the old fashioned way – through hard work and study. Graduation Barbie was bonus gift.
Leachman also shared words of wisdom from various sources. "I will tell you what the Boy Scouts and Grandma Moses always said: 'Be prepared.' That's the easiest and quickest thing that you can always remember.

"My mother's advice was the best. She said, 'There's plenty of room at the top.' Then there's my mother-in-law Mabel Albertson, who played Darrin's mother on 'Bewitched' all those years and was my dearest friend. Her wisdom was 'Make a good bluff and make the bluff good.' That's what I'm doing today."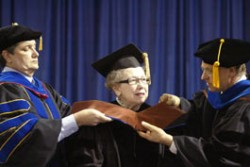 John Burney, dean of the college of arts and science, left, and Provost Ron Troyer place a hood on the ceremonial garb of Drake alumna Alice Jordan, FA'38, who received an honorary Doctor of Fine Arts at commencement Sunday.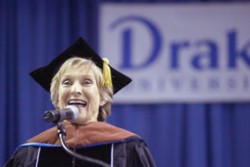 Academy Award-winning actress Cloris Leachman receives an honorary Doctor of Fine Arts at commencement Sunday.