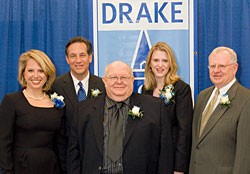 Honorees (front left) gather at the awards dinner: Kimberly White, Mark Ernst, James Collier, Sara Taylor and Ed Sease.
A top adviser to President Bush, as well as the chief of H&R Block and a lawyer who was the first in his family to go to college were among the Drake University alumni the school honored at the Drake National Alumni Association Annual Awards Dinner on Friday, May 12.

The honorees and their awards are:

Young Alumni Achievement Award:
Sara M. Taylor, Class of 1997
Deputy Assistant to the President of the United States and
Director of Political Affairs
Washington, D.C.

A native of Dubuque, Iowa, Taylor served as deputy strategist for President George W. Bush's re-election, where she helped manage the campaign's paid media, travel planning and opinion research. She was also associate director for Midwestern states in the White House Office of Political Affairs. Taylor joined President Bush's team in 1999 when she helped set up his Iowa caucus efforts. She was appointed to her current position in February 2005.

Young Alumni Loyalty Award:
Kimberly E. White, Class of 1991
Director of National Accounts
FinishMaster (nation's leading distributor of automotive paints)
Indianapolis

Former Student Body President and recipient of the Oreon E. Scott Award (top award for Drake undergraduates), White is a successful young alumna who always makes time for Drake. A member of Drake's President's Circle (annual unrestricted giving of $1,000 and more) and President's Circle Board, White has written letters to fellow alumni encouraging them to give at the President's Circle level and hosted a President's Circle reception. She has served as a member of the Drake School of Management and Communication National Advisory Board and of the Donald V. Adams Leadership Institute Advisory Board. She has been active in student recruitment efforts and alumni activities, including helping to plan both her five-year and 10-year class reunions.

Alumni Achievement Award:
Mark Ernst, Class of 1980
Chairman of the Board, President and CEO
H&R Block Inc.
Kansas City, Mo.

A native of Bellevue, Iowa, Ernst transferred to Drake from the University of Northern Iowa to complete his business and accounting degree, taking 24 hours' worth of courses in each of his final two semesters. He also worked full-time at the Comptroller of the Currency, a U.S. Treasury agency that inspects federal banks. Since then, he's served as H&R Block's chief operating officer, executive vice president, president, CEO and, since 2002, chairman. He is credited for "strengthening the Block brand and moving forward with its mission to become its clients' tax and financial partner, while maintaining its position as the nation's largest tax preparer." A CPA with an MBA with emphasis in finance and economics from the University of Chicago, he serves on several civic boards.

Alumni Loyalty Award:
James Collier, master's Class of 1970
Retired High School English Teacher
Medford, Ore.

An active and passionate philanthropist, Collier puts Drake at the top of his philanthropic endeavors, particularly in the fine arts and education. He has established – with brother John – multiple scholarship funds and a professorship in the Drake School of Education in memory of his mother, Drake alumna Mary Collier Baker. He has endowed the James Morrison Collier Faculty Development Fund in the School of Education, to provide financial support and enhancement to the faculty, and created the James Morrison Collier School of Education Scholarship for elementary or secondary juniors or seniors who demonstrate financial need. Collier also gives to the Annual Fund, Friends of Drake Arts and the Drake Alumnae Scholarship Fund. In 2005, he purchased a $60,000 Steinway D piano for the music department; supported the Drake Choir's European tour; and gave $100,000 for the Collier Heritage Room in Cowles Library, which currently displays items from Drake's 125-year history.

Distinguished Service Award:
Edmund Sease, undergraduate Class of 1964, Law School Class of 1967
President, Attorney at McKee, Voorhees and Sease law firm
Des Moines

As a Drake law student, Sease urged a faculty member to offer an intellectual property law class. The program has become very successful, and Sease has taught classes in the Drake Law School program since 1975. A member of the Drake Law School Board of Counselors, Sease served on the Law School Task Force of the National Commission on the Future of Drake University. He also served as a poster judge at the April 2005 Drake University Conference on Undergraduate Research in the Sciences.

A leading expert in intellectual property law, the Des Moines attorney was named one of the top intellectual property lawyers in "The Best Lawyers in America" in 1998. He is past president of the Iowa Patent Law Association and a member of the American Intellectual Property Law Association. He is active in the Polk County, Iowa, and American Bar Associations.