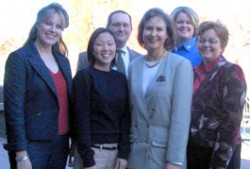 These friendly folks are here to serve your every need as a member of the Drake alumni family. From the left: Dot Johnson, Kelli Turner, John Brown, Barb Dietrich Boose, JO'83, GR'90, Melisa Cox and Betty David.


Bulldog Bashes are confirmed or in the works in cities nationwide for this May/June. Check out the full list on the alumni page of upcoming events, https://wwww.drake.edu/alumni/events.html, or call the Drake Alumni Office at (515) 271-2500 with questions.


The 1981 Drake football team, one of the most successful teams in Drake football history, will reunite on campus during Homecoming Weekend, Sept. 29-30. More details will be sent soon to team members. To make sure you're on the mailing list or for further information, contact the Alumni Office at (515) 271-2500.