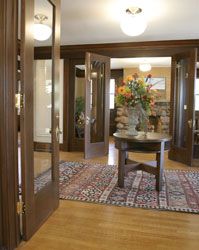 Opperman Center
CONTACT: Lisa Lacher, (515) 271-3119, lisa.lacher@drake.edu
The Drake Neighborhood Association's Annual Historic Home Tour on June 3 and 4 will start this year at the Opperman Center, 2700 University Ave.
Opperman Center, which serves as headquarters for the American Judicature Society, was renovated and upgraded to meet modern office space standards in 2003, when AJS moved from Chicago to the Drake campus with support from Drake Law School alumnus Dwight D. Opperman.
The three-story structure with distinctive stone porch columns was built about 1901 by William Bayard Craig, then chancellor of the University. Drake purchased the stately home in 1929 and for a time Drake presidents lived there. The structure also has served as a sorority house and home of Drake's Center for International Programs and Services.
The tour includes the home of Frederique and David Courard-Hauri, assistant professor of environmental science and policy, at 1112 29th St. The house, built in 1915 in the craftsman style, features a large, wrap-around porch, various built-ins and hardwood floors. The Courard-Hauris have remodeled the kitchen and made other improvements, but what they are most proud of is the garden they developed in the backyard.
"We have attempted to landscape largely with edibles, consistent both with a desire to eat locally and with a time period when most Iowans had at least a pear and apple tree in their yards," said David Courard-Hauri.
Advance tickets for the tour, which will run from 11 a.m. to 5 p.m. June 3 and 4, cost $10 and are available at the Drake Diner, Mars Café and Dahl's on Ingersoll Avenue. Tickets will be on sale for $15 at Opperman Center from 11 a.m. to 4 p.m. the days of the tour.
Also on June 3 and 4 the Drake Neighborhood will celebrate the 28th annual Greek Food Fair at the Greek Orthodox Church of St. George, 35th Street and Cottage Grove Avenue. The fair will take place from 5 to 10 p.m. June 3 and from 11 a.m. to 7 p.m. June 4.
On both days, the fair will offer a taste of Greece with an a la carte menu of appetizers, moussaka (similar to lasagna), souvlaki (Greek shish-kabobs), keftedes (Greek meatballs) and a Greek salad with feta cheese and olives. There will also be outdoor booths serving gyros, traditional Greek pastries, ice cream sundaes and Greek coffee.
Tickets for the meal are $11 in advance or $12 at the door. Tickets can be purchased at all the Des Moines area Dahl's stores through June 2.