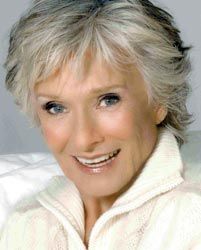 Cloris Leachman
CONTACT: Lisa Lacher, (515) 271-3119, lisa.lacher@drake.edu
Academy Award-winning actress Cloris Leachman and renowned composer Alice Yost Jordan will receive honorary Doctor of Fine Arts degrees from Drake at its 125th Commencement Ceremony for Undergraduates on Sunday, May 14. The ceremony will start at 10 a.m. in the Drake Knapp Center, 2525 Forest Ave.
Leachman and Jordan will speak at the ceremony along with Drake President David Maxwell and Amy Schoepf, winner of the Oreon E. Scott Award, the top honor for a Drake senior.
Leachman, a native of Des Moines and a graduate of Roosevelt High School, began her acting career at Drake University Children's Theatre and the Des Moines Playhouse.
"I am simply overwhelmed by this incredible honor from my friends at Drake and thrilled to be returning home to accept it," Leachman said.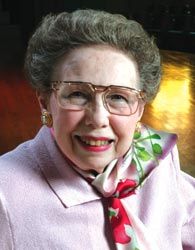 Alice Yost Jordan
From her early days on the boards of Drake University's Children's Theatre and the Des Moines Playhouse, Leachman realized that acting would be her life's work. At the age of 20, she starred in the original Broadway run of "South Pacific" and later, in various live television theatre broadcasts.
Leachman is an eight-time Emmy award winner, and her work in television spans more than 50 years. First a cast regular on the original "Bob and Ray Show" and later as the owner of "Lassie," Leachman is probably best known as the rapier sharp Phyllis Lindstrom in the 1970s comedies "The Mary Tyler Moore Show" and "Phyllis." In the 80s, Leachman nurtured the rambunctious girls of the Eastland School – and a fresh new actor named George Clooney – on the show "The Facts of Life."
An entirely new generation has experienced Leachman's wit through her role as Grandma Ida on the current Fox series "Malcolm in the Middle." She has also starred on the Lifetime mini-series "Beach Girls" and in the CBS drama "Joan of Arcadia."
Leachman, now 80 years old, continues to thrive in her career. She has received rave reviews for her recent portrayals of "wacky old ladies" in the films "Bad Santa" and "Spanglish" and the acclaimed HBO movie "Mrs. Harris."
Jordan, a 1938 Drake graduate who has more than 200 choral and organ pieces to her credit, is one of America's most distinguished and published composers. Numerous churches, universities and organizations have commissioned her to compose choral and solo works.
Jordan's music, performed worldwide, has been the subject of doctoral dissertations and won recognition in national competition. Her work is highly respected by other musicians as well, including fellow Drake graduate and famed operatic baritone Sherrill Milnes, who commissioned Jordan to write "Take Joy Home," a song Milnes performed at a White House state dinner and on his world tour.
The Iowa High School Music Association, which hosts the annual All-State Festival Concert of premier high school musicians, commissioned Jordan for an arrangement of "America the Beautiful," which has become a hallmark of each All-State concert.
Jordan is unwavering in her support of the arts throughout central Iowa. She has served on boards of the Des Moines Civic Music Association, the Des Moines Symphony and the Des Moines Women's Club. In addition to her many philanthropic endeavors at Drake, Jordan has been president of the Drake Alumnae Association and chairperson of the Scholarship and Loan Board. She was inducted into the Iowa Women's Hall of Fame in 2002.
In honor of Jordan's husband, the late Frank B. Jordan, former dean of Drake's College of Fine Arts and professor emeritus of organ and church music, Drake's Sheslow Auditorium in Old Main is home to the Jordan Stage, where aspiring musicians and composers carry on the couple's fine musical legacy.