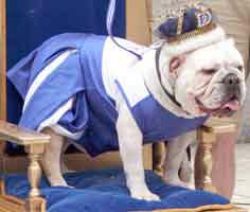 Hannah
CONTACT: Lisa Lacher, (515) 271-3119, lisa.lacher@drake.edu
It's a doggone disappointment, that's for sure.
Hannah, winner of Drake University's Beautiful Bulldog Contest and official mascot of the 2006 Drake Relays, was scheduled to appear on NBC's "The Tonight Show with Jay Leno" on Monday, May 15, as part of the show's first Bulldog Beauty Contest.
After picking out a new wardrobe for Hannah and planning their trip to California, co-owners Amanda Millard and Curtis Jackson of Des Moines recently learned that the segment was being canceled.
"It's very disappointing," said Millard, who works at the Davis Brown law firm in Des Moines. "We didn't get much of an explanation – just that things weren't working out."
Grouchy "American Idol" judge Simon Crowell had been slated to judge the contest. At least now Hannah and her competitors will be spared Crowell's cutting comments about their wrinkles, fangs and drool.
Hannah already has garnered national and international media coverage for winning Drake's Beautiful Bulldog Contest on April 24. A photo of the comely canine sporting her crown was the most e-mailed photo on Yahoo for several days and she shares a page with J. Lo, Anna Nicole Smith and Jessica Alba in the May 15 issue of In Touch Weekly.