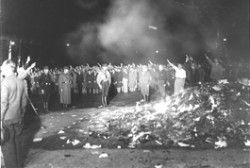 The Nazi-ordered burning of books and the event's impact on culture worldwide is the topic of a United States Holocaust Museum.
The United States Holocaust Memorial Museum's traveling exhibit "Fighting the Fires of Hate: America and the Nazi Book Burnings" visits Drake University's Cowles Library. The exhibit began March 26 and will run through May 20.

The exhibit provides a vivid look at the first steps the Nazis took to suppress freedom of expression and the strong response that occurred in the United States both immediately and in the years thereafter. The exhibit focuses on how the book burnings became a potent symbol during World War II in America's battle against Nazism and concludes by examining their continued impact on our public discourse.

The James M. Collier Heritage Room features additional exhibits related to local Holocaust survivors and modern-day book banning and censorship.

For a complete schedule of events, visit www.lib.drake.edu and click on News and Events. More information about the exhibit can be found at the United States Holocaust Memorial Museum: http://www.ushmm.org/museum/exhibit/online/bookburning.