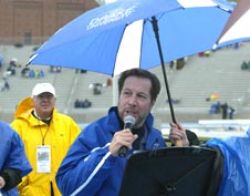 Drake President David Maxwell
CONTACT: Lisa Lacher, (515) 202-1773, lisa.lacher@drake.edu;
Daniel P. Finney, (515) 202-1549, daniel.finney@drake.edu
Drake University will host the 2007 NCAA Midwest Regional Outdoor Track and Field Championships, Drake President David Maxwell announced today during the rededication ceremony of Drake Stadium.
The championship, which draws as many as 1,100 athletes, is scheduled for May 25-26, 2007.
"It's coming," President Maxwell told the Relays faithful crowd today during a ribbon-cutting ceremony. "Drake and Des Moines are truly the Midwest capital of track and field."
The meet's arrival at Drake and Des Moines put an exclamation point on the celebration of the newly revitalized Drake Stadium, which hosted the 97th running of the Drake Relays this week. The 81-year-old building underwent a $15 million renovation that began last May and finished just hours before the first starter's pistol fired on Wednesday.
The newly renovated stadium includes a Mondo surface track with a safety lane that meets international standards and a new throws venue to the north of the track for field events.
One of the motivating factors for the revitalization was attracting top track and field events to Des Moines. The NCAA awards track and field championships on a 14-year cycle, meaning Drake could host a regional meet and, later, a national championship twice within that period.
Combined with the annual Relays and the girls' and boys' Iowa state championships, revitalized Drake Stadium will generate as much as $300 million for the Des Moines-area the next 14 years, estimates the Des Moines Convention and Visitors Bureau.
"Des Moines and Drake joined together to rebuild Drake Stadium and together we will reap the benefits of this magnificent project," President Maxwell said. "Hosting this meet is a tribute not only to Drake University but to our city and state as well. We all take this victory lap together."