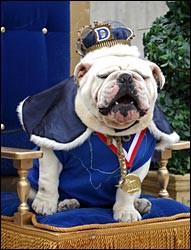 Tiberius, the 2005 Beautiful Bulldog winner, reigns supreme at last year's Relays.
The annual slobber-a-thon known as the Beautiful Bulldog Contest will return to Nollen Plaza in downtown Des Moines at 11 a.m., Monday, April 24. For the 27th year, judges will pick the canine mascot for Drake Relays Festive Week. Last year's winner, Tiberius, from Ankeny, Iowa, drew international attention in newspapers, on TV broadcasts and mentions on radio in 23 countries.
This friendly fellow, made possible by a gift from Drake alumni Elaine Hanna Wright and Andy Wright, with support of the Class of 1997, will stand guard over Drake Stadium once installed in the newly renovated plaza area.
And if that weren't enough bulldog news for you, the biggest bulldog around – a 3-foot tall, 5-foot long bronze sculpture – will make his home at the newly renovated Drake Stadium.

The sculpture, designed by Kansas artist Richard Bergen, was donated by Andy Wright, a 1970 alumnus and member of the Drake Board of Trustees; Elaine Hanna Wright, a 1969 alumna; and support from gifts by the Class of 1997.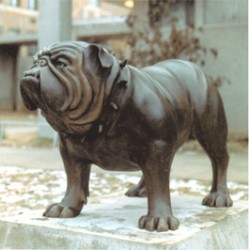 The fierce-looking creature weight 750 pounds and will make his first appearance at a dedication ceremony for the sculpture and the plaza just west of Drake Stadium set for 12:15 p.m., Friday, April 28. The bronze bulldog will be permanently installed in the plaza when construction is completed in early June.