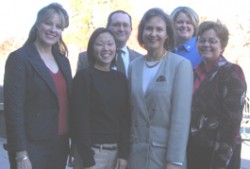 These friendly folks are here to serve your every need as a member of the Drake alumni family. From the left: Dot Johnson, Kelli Turner, John Brown, Barb Dietrich Boose, JO'83, GR'90, Melisa Cox and Betty David.


Drake's Future Alumni Network (FAN) student organization has put together an 11-member team to participate in the American Cancer Society's Relay for Life April 7-8, 6 p.m. to 6 a.m., at the Drake Fieldhouse. Funds raised by the team will support cancer research and benefit individuals and families whose lives have been affected by the disease. To learn more about the event and support the FAN team – your future fellow alumni – in this important effort, visit http://www.relayforlifeofdrake.com/, click "team rank," then "more," choose "Future Alumni Network," and make a "General Team Donation."


It's Reunion Time. If you are in the classes of 1995, 1996, or 1997, or in the classes of 1965, 1966, or 1967, then mark your calendars now for Relays Weekend 2006 (April 28-29, 2006) for your 10-year cluster and 40-year cluster reunions!


Members of the Drake classes of 1965, 1966 and 1967 will celebrate their reunion on Saturday, April 29, at the Des Moines Club, 666 Grand Ave., Des Moines, 6-8 p.m. The classes of 1995, 1996 and 1997 will party that Saturday at the new Science Center of Iowa, 501 West Martin Luther King Jr. Parkway, 4 to -7 p.m.


In addition, Drake law alumni of the classes of 1955, 1956, 1965, 1966, 1975, 1976, 1985, 1986, 1995, 1996, 2000, and 2001are invited to enjoy a reunion party on Saturday, April 28, at the Four Points Sheraton near the Des Moines Airport, 1810 Army Post Rd., 6-9 p.m.


Several Drake fraternities are holding reunions during Drake Relays this year, too. Drake members of Theta Chi will celebrate on Saturday, April 29, at Cool Beans in Hubbell Dining Hall from 5 to 9 p.m. Alumni of Pi Kappa Phi and Sigma Chi are planning to gather as well. And Alpha Tau Omega members are reuniting in conjunction with Drake's 40-year cluster reunion during Relays Weekend. Details are being finalized, so contact your fraternity or the Alumni Office for updates.


Members of the Drake classes of 1956, 1946, and 1936 – and all alumni who graduated 50 years or more – will reunite during Alumni and Commencement Weekend 2006, May 12-14. The Class of 1956 will hold its 50-year reunion Saturday, May 13, at the Glen Oaks Country Club, West Des Moines, and class members are invited to don caps and gowns and participate in Drake's Commencement on Sunday, May 14. All alumni are encouraged to attend the annual Alumni Awards Dinner on Friday, May 12. If you are in these classes, please return to campus so that Drake University, your fellow alumni and the entire Drake community can honor you.


Attending your reunion is a great way to reconnect with old friends and classmates, visit your former haunts, check out changes on campus and enjoy your alma mater during one of the most festive times of our year. More details on each reunion will be coming soon. In the meantime, we are looking for alumni from these classes who would like to help plan their reunions. To sign up, click here https://wwww.drake.edu/alumni/volunteer.html.


Music alumni Thompson Brandt, Diane (Patterson) Hanselman, and Dan Kingkade have organized a reunion for music majors from the Drake classes of 1973 through 1977 and music faculty on campus on Saturday, April 22, with a reception, dinner and the Drake Opera Theatre performance of Gilbert and Sullivan's "The Pirates of Penzance." The fun will continue with a Sunday brunch. For information, contact the Alumni Office at (515) 271-2500.


Bulldog Bashes are confirmed or in the works in cities nationwide for this May/June. Check out the full list on the alumni page of upcoming events, https://wwww.drake.edu/alumni/alumevents.php or call the Drake Alumni Office at (515) 271-2500 with questions.


The 1981 Drake football team, one of the most successful teams in Drake football history, will reunite on campus during Homecoming Weekend, Sept. 29-30. More details will be sent soon to team members. To make sure you're on the mailing list or for further information, contact the Alumni Office at (515) 271-2500.