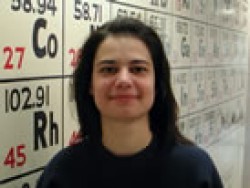 Albena Ivanisevic, AS'96
Drake alumna Albena Ivanisevic, assistant professor of biomedical engineering and chemistry at Purdue University, returns to Drake on Tuesday, April 4, to discuss her groundbreaking research on retinal transplants for age-related macular degeneration that could ultimately restore sight for millions.

Ivanisevic, who was named one of the Top 100 Young Innovators in the world by the Massachusetts Institute of Technology in 2004, will speak at 7:30 p.m. in Bulldog Theater in Olmsted Center, 29th Street and University Avenue. Her speech, titled "Fabrication and Characterization of Biological and Chemical Architectures," is free and open to the public as is the reception that follows.

In addition to her speech, Ivanisevic will meet informally with Drake students at a pizza luncheon at noon Wednesday, April 5, in the resource room in Fitch Hall, 28th Street and Forest Avenue.

The 31-year-old Ivanisevic used a technique similar to metal working to create a scaffold-like pattern on the surface of a pig's retina that ultimately create conditions that could promote the growth of transplanted healthy cells to treat age-related macular degeneration.

Macular degeneration is an incurable eye disease that is the leading cause of blindness for people 55 years old and older in the United States, affecting more than 10 million Americans. Retinal pigment epithelial cells deliver nutrients to the retina and remove waste products. Macular degeneration is caused by a deterioration of these cells.