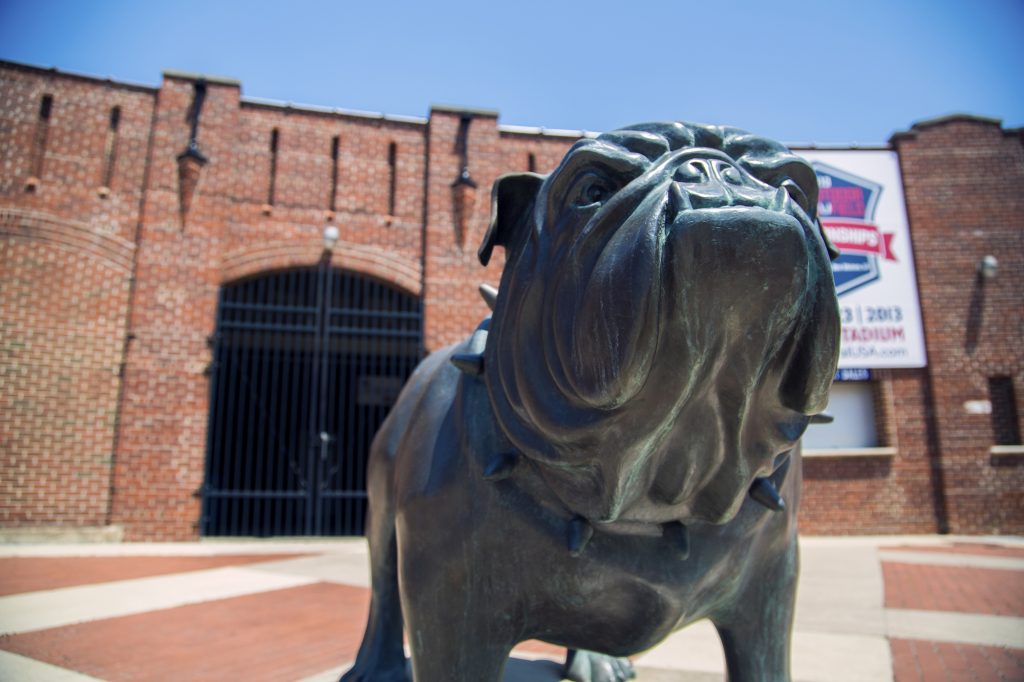 Drake University leaders welcomed the newest bulldog – a 750-pound bronze sculpture – which will stand guard outside Drake Plaza, a brick walkway and arch under development at the corner of the former 28th Street and Forest Avenue, both made possible by generous gifts from Drake alumni and friends.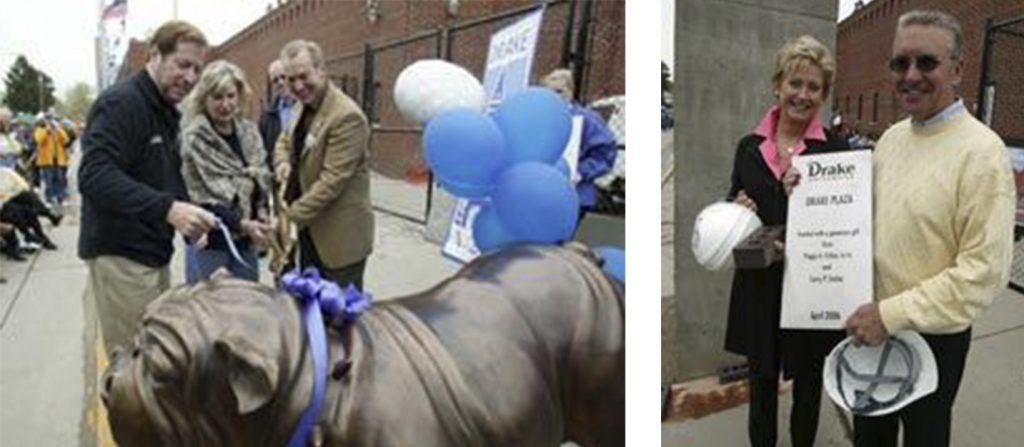 "These gifts came about independently, but both symbolize the meaning and magic of the Drake Relays and Drake University itself because they relate to important events in Drake's history," said David Miles, chairman of the Drake Board of Trustees.
The plaza and archway, due for completion this summer, are made possible by a $500,000 gift from Peggy Fisher, a 1970 Drake alumna, and her husband, Larry Stelter, both of Urbandale.
"It seemed natural for me because I'm a Drake graduate and Drake has always had a special place in my heart," Fisher said. "My husband, who is an Iowa grad and an avid Hawkeye fan, has been wonderful and has embraced Drake whole heartedly, even rooting for Drake when we play Iowa in basketball. He was the first one to say 'Yes' when we were asked to make this contribution. I didn't even have to talk him into it."
"We feel fortunate to be able to make this gift," Stelter said. "The plaza will finish off the entrance to the stadium so nicely and be a real asset for Drake and Des Moines. Not having a grand entrance would be like building a new house and not seeding the front yard."
The bronze bulldog, which stands 3 feet high and stretches 5 feet long, takes up residence at the stadium courtesy of a gifts by Andy and Elaine Hanna Wright, a pair 1969 Drake graduates, as well as support from gifts from the Class of 1997. The Wrights' son, James Wright and his wife, Bethany (Hornblad) Wright, both graduated from Drake in 1997. Andy Wright, of Barrington Hills, Ill., is a member of the Drake Board of Trustees.
"This will be a visible mark of pride for the Drake campus for many, many years," Andy Wright said. "It's something that Drake really needed and Elaine and I considered it an honor to be a part of it."
Richard Bergen, of Salina, Kan., designed the bronze bulldog. The artist has placed his bronze works around the Midwest, including a lifelike wildcat at the entrance to the Kansas State University alumni center and a Kansa Native American warrior on the peak of the Kansas Capitol building in Topeka, Kan.
Said Bryan Klopack, Drake student body president, "Today marks a new era in Drake Athletics, Drake pride, at Drake University. Today, because of these generous gifts from our great alumni, we embark on a renewed sense of pride and spirit that has inspired a campus to come together and brought this family home."