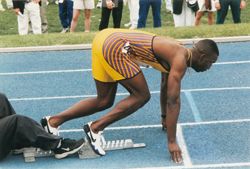 Olympian Michael Johnson braces for the start of an invitational race in 1996
CONTACT: Lisa Lacher, (515) 271-3119, lisa.lacher@drake.edu
Longtime Drake Relays fans are invited to share their favorite recollections of America's Athletic Classic by stopping by the Alumni Association Tent, where Cowles Library staff members will collect oral histories that will be edited and included in the Drake Relays Digital Archive.
Memories will be recorded from 10 a.m. to 2 p.m. Friday, April 28, and 8 a.m. to 2 p.m. Saturday, April 29, in the Alumni Association Tent on the south side of Forest Avenue at 28th Street.
The Drake Relays Digital Archive already contains hundreds of images, documents and articles that show the history of the Drake Relays. Users can search the archive by person, school, subject, event or keyword. There are several browsing options and each image or document is accompanied by a description. To view the archive, visit www.lib.drake.edu/heritage/drakerelays/index.html.
For more information, contact Bart Schmidt, digital projects librarian, at (515) 271-2940 or bart.schmidt@drake.edu.